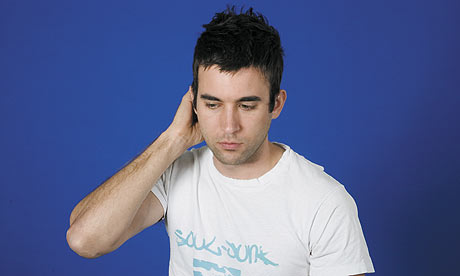 Sufjan Stevens records album of 'background music' He has contributed to Music for Insomnia, an ambient record designed for relaxation. All this had led him to question the power of his music.
"I definitely feel like, 'What is the point? What's the point of making music anymore?'" Stevens told Exclaim magazine. "I feel that the album no longer has a stronghold or has any real bearing any more. The physical format is obsolete; the CD is obsolete and the LP is kinda nostalgic. So, I think the album is suffering and that's how I've always created – I work with these conceptual albums in the long-form. And I'm wondering, what's the value of my work once these forms are obsolete and everyone's just downloading music?"
Read the whole Exclaim interview here
and
here for a bit more
.
I also think that we missed commenting on the release of the BQE - a Sufjan side project.he released a classical composition called The BQE (and an accompanying film), commissioned by the Brooklyn Academy of Music in 2007. This week, a remake of his 2001 album, Run Rabbit Run, is due on shelves – with its original electronic arrangements replaced by newly composed string parts. The Guardian gave it

Music for Insomnia is due 8 December.
Honestly, when will he get on with it and release another album already? As the Guardian rightly said "Sufjan Stevens is a very talented singer-songwriter who seems determined to do almost anything else but write songs and sing them"