What a great album title. They recorded this in the middle of the californian desert, completely alone and only visited once a day by the ranch owner.
GOLDEN ANIMALS - FREE YOUR MIND AND WIN A PONY
(HAPPY PARTS RECORDINGS)
4 AUGUST 2008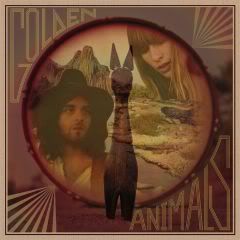 Golden Animals are Tommy Eisner (guitars) and Swedish born Linda Beercroft. They found inspiration from old fashioned rock'n'roll- The Doors, Hendrix and The Rolling Stones. Eisner, speaking about early blues records claims "in 200 years people will find new ways to create from those rules". Perhaps, but Golden Animals haven't managed. There is nothing here you haven't heard before. Eisner has a fine baritone (think Jim Morrision) and Linda provides sweet backing vocals but each blues flavoured track trudges around the 12 bars as uninspiring as the next, musically and lyrically.
For fans of: The White Stripes; Rolling Stones
Download: The Steady Roller, My My MY
Rating: 5/10