I'll have a bunch of new reviews on the blog soon. To start with, here are my thoughts about the new Sufjan record. I was a big fan of the Illinois album, giving it number one in the top 10 records of 2005, and the Avalanche is no dissapointment. I'd rate it 8/10.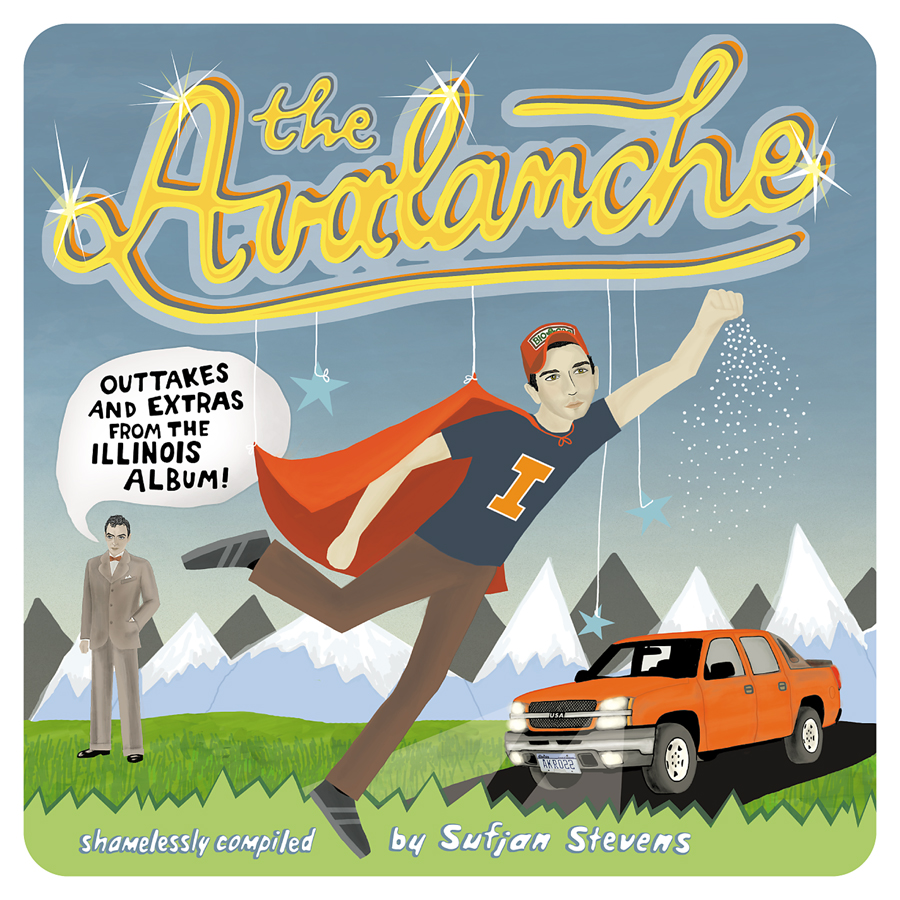 ARTIST: Sufjan Stevens
ALBUM: The Avalanche: Outtakes and extras from the Illinois album
LABEL: Asthmatic Kitty/Rough Trade
First things first: the 21 songs on The Avalanche were culled from the Illinois album. Therefore we shouldn't expect them to measure up, let alone surpass their brilliant parent album. Having said that, as substitutes go, they'd give the starting 22 tracks a run for their money.
The Avalanche kicks off with the title track, first released as a bonus on the vinyl edition on Illinois. It was originally cast to be the lead on Illinois but fell from grace and now perfectly serves as a meditation for the process of cleaning up and dusting down the b-sides for the album: "I call ye cabin neighbours," the song bemuses, "I call you once my friends."
As Illinois was originally planned as a double album before common sense kicked in, the mood and feel of The Avalanche is identical. Almost every song on the Illinois album has a counterpart on the outtakes. Carl Sandburg arm-wrestles Saul Bellow. The aliens landing near Highland salute Clyde Tombaugh, the man who discovered Pluto. The loneliness of "Casimir Pulaski Day" deepens even further in the foreboding soundtrack to the autobiographical "Pittsfield."
I want to reconstruct the Illinois album as the double-epic it should have been. One song that definitely should have made the cut is "The Mistress Witch from McClure (or, The Mind That Knows Itself). It's a haunting song based on some personal experiences that Sufjan would rather not elaborate on. With as many as 21 tracks, there are bound to be a few filler tracks; the three (!) versions of Chicago spring to mind. The acoustic version is better than the original, the 'adult contemporary easy listening version' is an in-joke from Sufjan at the accessibility of his music, while the third 'Multiple Personality Disorder version' is fun to listen to once, but not more than that.
In summary, if you yearned for more from the Illinois album, then this is an early Christmas. If you haven't heard Sufjan, check out his other work first, but other artists will labour in vain to create anything as good as the scraps from Stevens' table.