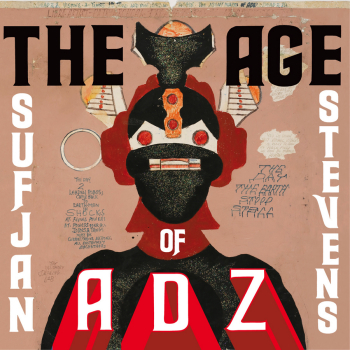 At last! A new, song based record from Sufjan.
It's been way way too long since the wonderful Illinois record in 2005. After prancing around with intellectual side projects Sufjan Stevens has finally decided to bring us a proper new record.
In typical Sufjan 'I like to be different' Stevens style it is called The Age of Adz and features kind of ancient myan artwork depicting aliens on the cover. It is inspired by the apocalyptic paintings of outsider artist Royal Robertson (1930-1997), whose work is used for the album cover, interior design, and as general inspiration for the tone of the album.
There was a bit of worry that Sufjan really wouldn't record another album. He set off on his 50 states project making two breathtaking records for Michigan and Illinois and then nothing. Recently he was comissioned to write a sound track for a film about the Brooklyn-Queens Expressway motorway in new york. It was a long orchestral composition after which he said, to our dismay in a 2009 interview "
"I definitely feel like, 'What is the point? What's the point of making music anymore?'" Stevens told Exclaim magazine. "I feel that the album no longer has a stronghold or has any real bearing any more."
But, fear not brave Sufjan fans he is back. The Age of Adz
(pronounced Odds)
will be released on Asthmatic Kitty records on October 12th (CD, MP3) with a double-LP following on November 9th.
Preorder it all right here.
And if that isn't enough for you, Sufjan has also released a little EP - All Delighted People. You can get it right now on iTunes.